Ann's birthday is coming up and for the past few weeks we've been coming up with a plan for her party. When I initially asked her what she wanted to do the first question out of her mouth was, "how many people can I invite?" Huh? I thought we'd figure out the "what" and the "where" before getting to the "whom," but she was pretty focused on the latter. So, I told her to give me five names.
(Logical I thought at that point as that's how many I could fit in the car if driving was required between locations? Right??)
I got the impression she was thinking bigger, but she expressed satisfaction at the figure and set to work. By the time we made the trip from home to school, (we were having this discussion on that drive one morning), she had her list written down. (She always seems to have some sort of pad of paper and something to write with nearby…where did she get that?!?)
Over the next couple days, we worked on the "what." She finally decided that she wanted a "spa" day, but not like the birthday a couple years ago where I took her and a couple friends to a beauty school for the "full spa" treatment. No, this was to be turning the house into the spa with originally me and William as the "concierge" and Ann as the sole beauty consultant…
We hammered out the details more…
Right now I'm still regulated to concierge, but William by his own decision is going to hang out with the grandparents during the party. The attendees will also split into pairs so each get a chance to act as the beauty consultant at each step.
But, wait! What constitutes this "spa" treatment? I had no clue, but Ann of course made a list. We worked it over and distilled it down to: a facial, a pedicure, a manicure, makeup, hair, "gourmet" pizza, and a two-layer chocolate and chocolate mousse cake, (yum!) Oh, and "mood" atmosphere.
Ann made another list of things needed for the facials and I picked up the last things today. It's a couple of weird concoctions—one mainly squeezed oranges and corn meal with the other mainly a combination of unsweetened coco, milk and honey. Ugh, but OK! I picked up a cucumber for the "swelling" eyes too based on a prior discussion Ann had about cucumbers vs. potatoes just in case. We came across some potted ferns one day grocery shopping at Meijer and they seemed to fit the "mood" bit along with some Pandora channels Ann has set up along with the fireplace. Oh, and scented candles? Yes, and after about five minutes of smell tests and smell overloads, cinnamon tea candles were the overall agreement. For the pedicures, I'm repurposing some plastic trays we use for snow-laden boots to contain things. Manicures should be straight-forward. Ann found some videos on YouTube with impressive "tie-dye-type" nail techniques, but we haven't gotten them to work reliably after a few tries, so that was scratched for now. Makeup, well, I nixed everything but blush, lipstick/gloss, eye shadow, (after a little battle about putting anything around the eyes), and that sparkling skin cream. "Gourmet" pizza is all me since Ann thankfully agreed that Pizza Hut delivery was sufficient there.
Tonight Ann started baking the two-layer chocolate/chocolate mousse cake that she insisted to start today and finish on Friday so as not to rush things, (I am frankly worried about the cake part drying out, but she didn't want put it off to the last minute and I decided it'd be OK until Saturday if we sealed it properly).
I don't know much about this spa stuff, but know this party will be a blast just like her others.  Ann really has a knack for planning these things and I'm thankful for being still brought along for the ride, and what a fun ride it is…
Happy early Birthday, hun!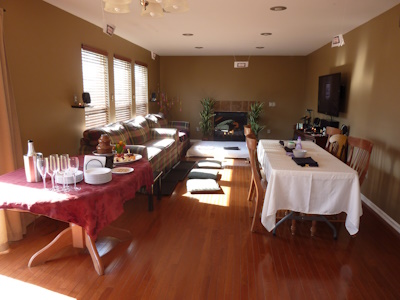 7 Mar. 2012 Update: Tonight I re-arranged the furniture in the living room four or five times trying to figure out how to set up all the stations. I think I finally have it, though. A futon mattress on the floor for the facials, pedicures on the couch using boot trays for the feet, a long folding table for manicures and makeup, (then just move chairs around for hair), and a snack table. I realized tonight that I needed to get gift baskets too–off to Sally's Beauty Supply tomorrow! I wish I could take a day off work as all these funny little touches keep coming to mind. Like for the snack table I'm now thinking of fruit, chocolate fondue, and sparkling cider in Champaign glasses…I think Ann would get a kick out of that.